These Girls Are On FIRE (Leading Ladies Play Review)
Hang on for a minute...we're trying to find some more stories you might like.
Leading Ladies follows two struggling Shakespearean actors who find an ad in the newspaper offering one million dollars to the two long lost nieces of a wealthy woman on her deathbed, from Pennsylvania, Florence Snider, played by Catherine Chan '16. The two actors make a plan to pose as Florence's nieces in order to obtain the money being left if and when Snider died. Only one problem–both of the actors are men. Desperate for money and out of options, the actors- Leo Clark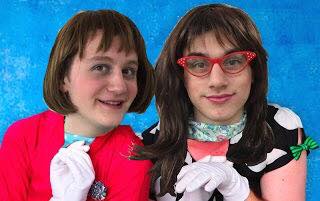 and Jack Gable, played by Dillon Orlando '16 and Egzon Muja '16 respectively, head to Pennsylvania to masquerade as the two nieces, "Maxine" and "Stephanie". At first glance, they have no problem doing whatever is necessary to fit their roles, in order to get the money. But after meeting their "cousin", Meg, played by Isabella Bailey '17, Leo cannot help falling in love with her. Under the protection of "Maxine's" identity, Leo finds ways to get closer to Meg and falls more and more in love with her–despite the fact that she is engaged to her town's minister, Duncan, played by Marco Pompa '16. Knowing that Meg is a huge fan of the theater and especially the actor Leo Clark, "Maxine", introduces her to him(self). Leo and Meg decide to put on a play the night before Meg's wedding to Duncan, which gives Meg a chance to get to know the real Leo. As Leo and Meg spend more time together, "Maxine" tries to convince Meg that Leo would be much better for her than Duncan would. As for Jack, he instantly falls in love with Audrey, played by Mary Cecil '17. At the same time, he struggles with playing "Stephanie" as she is supposed to be "deaf and dumb", as well as the fact that Audrey is with Butch, played by Eliot Huh'17. Meanwhile, Duncan is suspicious as to whether or not the "nieces" are really who they say they are.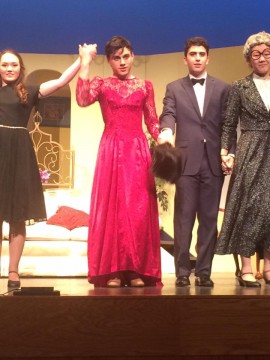 The originality and freshness of the Leading Ladies' plot made it so enjoyable to watch. The dramatic comedy had the whole audience laughing as Orlando and Muja danced around the stage in dresses and Duncan fought with two police officers, played by Eliza Auchincloss '16 and Alexa Trujillo '18, as he tried to get them to prove Leo and Jack were frauds. The show never failed to shock everyone with twists and turns like when Meg confessed her love, not for Leo but for "Maxine", and when Doc, played by Michael Hoffman '17 falls in love with "Stephanie" because of an interception of a note. More excitement occurred when the "real" Maxine and Stephanie, who are later revealed to be cons as well, show up to Florence's house and get arrested by the cops Duncan called on Leo and Jack. The unpredictability and strangeness of Meg and Leo's relationship was exciting to watch, as well as that of Jack and Audrey. Even better than the storyline was the exceptional performance by the cast. Their perfect timing and delivery left the whole audience wanting more.
by  Charlotte Irwin and Maddie Brew and Maggie Brew