How Making a Difference is a Piece of Cake
Hang on for a minute...we're trying to find some more stories you might like.
The smell of chocolate fills the kitchen, music plays softly in the background, students laugh and chat as they mix and measure, and it's all for one reason. One cake at a time, Nico Stainfeld '16 and Carolina Stainfeld '17 are making a difference. The siblings' certified 501(c)3 nonprofit, Cakes4Cause, is finding success both in Scarsdale and throughout the region. A 501(c)3 makes the charity tax-deductible under law. Cakes4Cause sells homemade baked goods and donates all profits to children's charities around the globe. Causes range from Smile Train, an organization that offers pro-bono cleft palate surgeries to children in developing countries, to the Food Bank of Westchester, which supports food-insecure families living in the area, to almost fifty other organizations. Since the club's start, the Stainfelds' hard work has resulted in over $30,000 put towards these charities. The siblings have also appointed classmates to help out with aspects of the club like advertising and finances. "We have a board consisting of seven members, both juniors and seniors, and some of us bake the cakes that people order on the website, while seniors who can drive take care of delivery," Stainfeld '17 explained.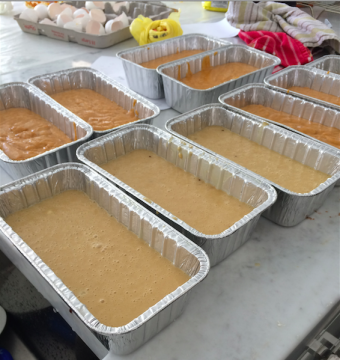 The organization was founded in 2008 when Nico and Carolina, in 5th and 4th grade respectively, decided they wanted to use their talents to create positive change. "My parents have always been involved in charity work, in a charity called ReachingU in Uruguay, and one day at the dinner table, my brother and I decided we also wanted to help out as much as we can," Stainfeld '17 recounted. They sell made-to-order as well as ready-made cakes and make most of their profits during holiday seasons. "We do about five drives a year, for times like back to school, Thanksgiving, Valentine's Day, Easter, and the end of school," Nico elaborated.  The business has burgeoned, spreading first by word of mouth and later through social media and their website, www.Cakes4Cause.com.
Not only is the charity for a great cause, but attending their baking sessions is a great experience as well. Upon entering the Stainfeld's kitchen, people are already busy at work making cakes that people from all over the county have ordered, or will order, from the charity. Everyone is stationed around the room at various standing mixers in groups of two or three. A few different types of cakes are being baked- honey, chocolate, and pumpkin- and each one smells better than the last. The environment is filled with a pleasant and relaxed feel as people talk and enjoy themselves while finding a way to make a difference.
At its start, Carolina and Nico were the only two members in the club. "We started when I was in fourth grade and my brother was in fifth grade. Originally, it was just me and my brother that were in it. Then we picked board members and started selling cakes to friends of our family and teachers" remarked Carolina.  This year, the Stainfeld siblings have started a Cakes4Cause branch at SHS, and they are pleased with what it has done for their club . "More people know about our charity, and that has obviously increased the amount of money that is donated" stated Carolina. The high school branch of the club has also resulted in a huge increase in size, with around 50 members recently joined. They have high hopes for the growth of their charity, which shows no signs of slowing down. "We already have underclassmen who are interested in the organization, so when we graduate, we'll probably pass the torch on to them," Carolina predicted. They may also expand their global presence even more in the future; the siblings aspire to open chapters in Colombia and Uruguay with the help of family there.
The Stainfelds had one closing message for SHS Students—"If you're interested in baking, join the club!" The club meets some Mondays in room 356, so join the facebook group to keep posted on when meetings are.
By Zoe Ewing, Maddie Brew, and Charlotte Irwin
Photo Courtesy: Maddie Brew, Charlotte Irwin, and Hayley Meisel