School Spiritless
Hang on for a minute...we're trying to find some more stories you might like.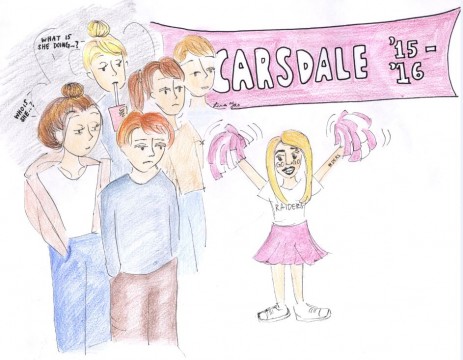 Scarsdale High School Homecoming Dance: September 26, 2002–Countless students surround trash cans as they fight waves of nausea. Some individuals lie unconscious on the gym floor. Four students are sped to the hospital, and 28 are suspended for three days. Because of the amount of underage drinking that took place at the 2002 Homecoming Dance, our school's Raider Rager has never been the same.
Claire Lobenfeld '02, attended the Raider Rager as a senior. Not only was it expected, but it was an annual tradition for upperclassmen to show up to the homecoming dance intoxicated. "There were little to no secrets about the fact that people intended to drink a lot before showing up," stated Lobenfeld. After numerous students were suspended from school, "there was definitely some resentment toward the administration for harming some student's ability to get into colleges (that) they applied (to) for early decision," said Lobenfeld. This scandal left a lasting impression on the school's future homecoming dances for years to come.
Scarsdale High School brought back the homecoming dance in September 2012. Although stricter rules were created in order to avoid drinking, students still arrived intoxicated. It wasn't until the 2014-2015 school year that the dance was transformed into a 'business attire' event. A dress code was enforced, and students were tested with a breathalyzer before entering the building. Tickets had to be purchased days before the dance instead of being sold at the door. A small turnout and multiple bad reviews of the dance lead to the ultimate failure of the September 2014 dance.
Despite weeks of preparation by the school government and government advisors in September 2015 to reinvent the homecoming dance, there was no other option but to cancel the dance due to low ticket sales. "I think whenever we plan an after-school activity, especially one that embodies school spirit, you want it to be successful," stated SHS Principal Kenneth Bonamo. In recent years, the turnout for government-organized after-school activities has decreased, placing more pressure on school officials to rally the community. "It wasn't an easy decision. We determined on Friday morning that there were not enough tickets sold to justify running the dance. There is currently a committee in school government that is looking into school spirit and possibly revamping the dance or coming up with alternative events that would increase spirit," remarked school government advisor Patrick Healy.
The cancellation of the school dance made government and staff once again question school spirit. During Raider Pride week, few students attended school wearing the daily school spirit clothing themes, leaving only the members of the school government dressed up. "It's kind of upsetting because we've been seeing a lack of spirit and I think that this really demonstrated that," said school government member Emily Chase '17. During the annual Pep Rally, hosted sixth period on the last day of Spirit Week, which is always a Friday, fall sport teams are recognized by the SHS student body. Students are able to participate in basketball games, tug-of-war, and dance battles against other students and teachers. Yet these activities are not enough to stop students from sneaking out of the Pep Rally early. Some sprint from their final class to school exits in hopes of ditching the Rally. They beg teachers to "save them" from attending the event, asking faculty to instead let them do homework. A few students even spend their fifth period planning an escape from the Rally. What has always been intended as a fun, social event has become a dreaded formality in the eyes of the student body.
In contrast to the poorly attended Homecoming Dance at SHS, the homecoming dances of neighboring school districts are popular. Students hailing from other Westchester high schools such as New Rochelle, White Plains, and Harrison take pride in their respective dances. The success of these school dances may be attributed to the large presence of school spirit within the student body. "Harrison High School has a lot of school spirit particularly because we see our school and our town as a community and a family," shared Emma Abramson '17, a student of Harrison High School. Exhibiting a sense of school dignity, Harrison High School has fostered a unique and inclusive environment. "School spirit for us is a way to come together and celebrate our love for Harrison!" added Abramson. In light of the contrast between Scarsdale and much of Westchester, students and faculty at SHS are wondering if we can cultivate a sense of school spirit similar to that of Harrison High School by attending student-government run events such as the Homecoming Dance.
Even though this year's dance was cancelled, Scarsdale High School students have found other ways to express school spirit. Many students have attended sporting events and matches this fall to support the successful and hardworking SHS athletic teams. "When I go to Saturday football games, I see the stands are full with students, families, and former students, which is great," said Bonamo. Chants led by the senior class are echoed by other classes, stands packed with the roar of "I believe that we will win!" Many come decked out in maroon and white, flashing Raider pride. It is at these games that students are connected to each other and their school. Hopefully we will be able to find some way to bridge our love of SHS sports teams with a need to support our school and display the spirit we all have within us.
By Chelsea Norman, Avi Altman, Sammy Thurm, and Sophie Grippo