In the Limelight: Kseniya Kornilova '16
Hang on for a minute...we're trying to find some more stories you might like.
Kseniya Kornilova '16, who hails from Kazakhstan, has joined the Scarsdale community through FLEX this year with the help of her host family, the Aurbacher's. Every year, SHS accepts students from around the globe through various exchange programs, in- cluding Future Leaders Exchange (FLEX), which provides schol- arships for high school students from Eurasia to spend an aca- demic year in the United States. Kseniya came to America with little idea of what to expect and a lot of excitement about experiencing life in a different country.
Since her arrival at SHS, she has become adapted to the new community, while bonding with Scarsdale students as well as the other exchange students. "I didn't really have expectations," recalled Kornilova, "but I knew it would be really nice." So far, Kornilova has taken part in many school activities, her favorite being track and field. She has also enjoyed getting to know the foreign exchange students from other coun- tries. "It was nice doing activities with them in the beginning of the year," she explained.
There are key differences between Kornilova's school experiences in America and in Kazakhstan. "In Kazakhstan, we have six days of school a week and 17 subjects each week. "It's better not having as many classes at SHS," admitted Kornilova. "Still, there's a lot of hard work here, too, especially because English is not my first language," added Kornilova.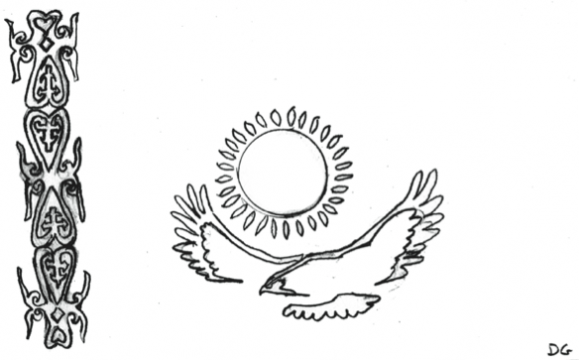 Kornilova appreciates America's college system, as Kazakhstan does not have as many large colleges or universities. She is even thinking of attending an American univer- sity. "The idea of going to college here doesn't seem so bad. The only thing is that my fami- ly is so far," shared Kornilova. Accepting Kornilova was an easy decision for the Aurbachers–they were eager to host an exchange student. They are pleased that Kornilova has quickly adapted the American culture. "She does everything she can to participate in the school's activities and events, and it's so nice to see her engaging in the Scarsdale community," said Alice Aurbacher '17, Kornilova's host sister. The exchange program has been an enlightening experience for both Kornilova and the Aurbachers. "It's really fun having Kseniya with us; she loves it here and we love having her," exclaimed Aurbacher.
by Chelsea Norman