Run Greg, Run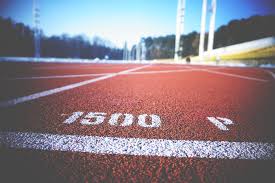 Frigid temperatures may keep many SHS students holed up indoors during the winter months, but nothing can keep the winter track team away from victory. On the weekend of March 7, three SHS students competed against other runners from pub- lic high schools around the state in the New York State Public High School Athletic Association Indoor
State Championships. SHS sent Greg Crowley '17 in the Boys Intersectional Med- ley, Maggie O'Keefe '15 in the Girls Triple Jump, and Hailey Thornton '16 in the Girls Long Jump to compete at the meet at Cornell University in Ithaca, NY. Crowley left competitors in the dust, taking home a gold
medal with his relay team, which was made up of the athletes from other schools who qualified in the section. He qualified for the relay by running a 4:28 mile and placed fourth in his race at the Section I State Qualifier in February. The week of training prior to the race had been difficult due to icy roads. He was only able to run 40 miles that week as opposed to his normal routine of 65-70 miles, but Greg's hard work and determination helped get him through the week, "I have never seen a more de- termined runner than when [Greg's] out there. He never gives up," SHS track coach, Richard Clark noted. Any nerves about training were calmed before the race. "I wasn't nervous because I knew that my training was just as good as everyone else's because everyone in NY was dealing with the same conditions," explained Crowley. Some students competing at the meet came from upstate New York where they had gotten even more snow.
Greg's training and confidence ultimately paid off, and he was able to pull through for his team when it mattered most. "I was the anchor leg on the relay and ran the longest distance, so it all came down to the last leg, which was really exciting because when I got the baton there were three or four other teams right up with me," recounted Crowley. The race was on a flatter track than he was accustomed to, so he had to adjust to the changes while also fighting to keep his team in the lead. He ran a 4:29 mile sealing the win for his team.
The Raiders indoor track season has come to a close, and the state championship was an experience that ended the winter season with a bang. "I was really excited going to states, and it was a really fun experience since it was my first time going to a state championship," reflected Crowley. The spring track season begins soon, and the Raiders are sure to continue their success.
by Zoe Ewing