We Were Liars Review
Hang on for a minute...we're trying to find some more stories you might like.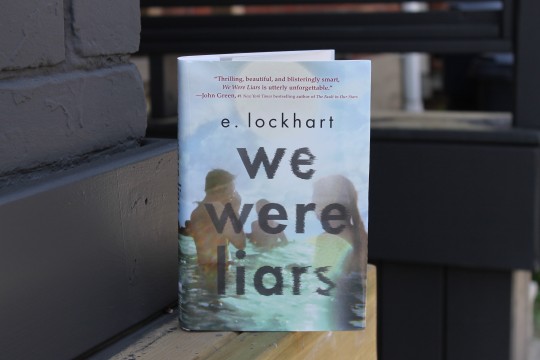 Imagine jumping off a cliff. Imagine cuddling under the covers. Imagine a crackling fire. Imagine the first rain of the summer. Telling someone you're sorry for their loss. Dipping your toes into a clear ocean. Board games with your family. The moment you get your heart broken. Imagine love. Hate. Fear. Remorse. Sadness. Fascination. Imagine feeling all these emotions all at once, and there you have the way I felt after reading We Were Liars, written by E. Lockhart.
The obscenely rich New England family, the Sinclairs, vacation on their private island off Martha's Vineyard every summer. A man and a woman, their three daughters, and their perfectly blond, beautiful grandchildren. Wealth, opulence, success – the Sinclairs have it all. The novel starts off like every other novel you'll ever read, predictable in the characteristics of the protagonists. But it'll remind you of something. A fairytale. A group of tight-knit teenagers, a summer romance, a wealthy man with three daughters. Narrated from the point of view of Cadence Sinclair, the eldest of the teenage Sinclairs, the plot revolves around an accident that occurs when the kids are fifteen, an accident that causes her to lose her memory. Cady wakes up, half-naked on a beach, with no memory of what happened. She returns to the island at age seventeen, desperately seeking answers, desperately trying to return to normalcy with her cousins.
In the spirit of no spoilers (as the novel's marketing line says, "Read it. And if anyone asks you how it ends, just LIE"), I will simply tell you how I felt and what I thought. The book locked me in from the very first page. An intriguing family, forbidden love, true friendship. It's everything I usually love to read about. But as the story progressed, somewhere the tone shifted. Stories that didn't add up, the terrible feeling of not knowing, of being left in the dark. I felt every emotion the way the narrator felt it – thanks to the brilliantly poetic style of writing Lockhart uses. Yes, at certain points it got overwhelming and slightly annoying – how much symbolism can I take? – but when I read the end, I realized it was worth it. The twist at the end will thrill you. Lockhart writes with a witty, keen, observant hand that captures human personality uncannily. It is a story with a moral. It is a fairy tale – a fable, a cautionary tale. Just not the conventional type.
The bottom line is: not many books leave you happy and heartbroken, hopeful and regretful, thoughtful and blank all at once. Not many books make you smile – because it's as if you know the characters (watch out for Johnny, he was my favorite) – then make you cry because you are one of them, and you aren't one of them. I devoured this book, and it devoured me. And trust me when I say, We Were Liars is one of the most beautiful books you will ever read.
by Nishna Signh