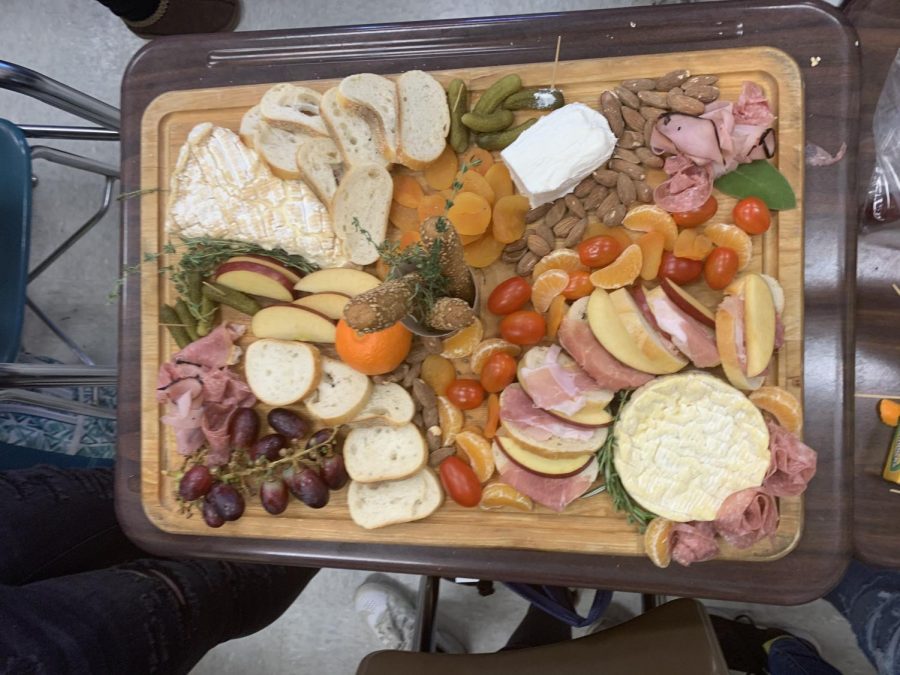 PC: Hadley Schwall '23
In the fourth-floor French classroom, the air was filled with chatter and the aroma of cheese as students surrounded the rearranged desks admiring their culinary work. The SHS French Club hosted its first-ever charcuterie design competition in late January. 
The tasty snack boards are displays of various cheeses, prepared or cured meats, and accoutrements including bread, fruits, nuts, and more. Charcuterie boards give a nice variety of typical French snack foods. "A lot of the time, we have nice little cheese and food-tasting things, and this time we decided to put it together in a more creative way to create a little competition out of it and to practice a little culinary presentation," explained club president Andy Morin '20.
Club co-advisor and SHS French teacher Nicholas Rastegar was inspired by an episode of Top Chef and his recent trip to France, where he had eaten lots of planché, French for the snack board. "After coming up with the idea in a meeting, we created a Google form, and the kids came in and really brought in over 90% of the ingredients. They shared among themselves. I'm really proud of them," said Rastegar. This year, Rastegar had joined co-advisor French teacher Brittan Tramontana to advise the club and offer new ideas. 
For the majority of the hour-long event, students designed their planché in teams of four to five, arranging and rearranging the different foods into aesthetic, colorful designs on the wooden boards. "It was nice to see everyone having fun. Junior year and senior year are very stressful, and this is an opportunity just to take a few minutes and do something that's less academic but still French related and fun," reflected Tramontana.
After the boards were finished, club officers judged their designs. Awards included Best Decorated, Most Creative, Most Economical, Runner Up, and Also Good. Of course, the charcuterie creators gladly enjoyed their work afterward, devouring their own boards and sampling from others. 
With nearly 30 people showing up for the casual competition, the club considered the event a success. "It's another event to add to the French club repertoire," noted Rastegar. Next, the French club looks to plan its Mardi Gras event in late February as well as a possible Soirée de Musique later in the year. Meanwhile, the club will continue enjoying weekly Friday afternoon meetings filled with food and French culture.